Croatia, a small country nestled in the Balkan Peninsula alongside the Adriatic Sea, is an idyllic haven. Known for its rich history of medieval walled cities (10 UNESCO World Heritage Sites!), exceptional food and wine, and stunning coastlines with 1,200 breathtaking islands, it's perfect for history buffs, food and wine connoisseurs, and nature lovers. Offering splendid diversity for its compact size, a lot of ground can be covered on a short trip to experience one of Europe's finest treasures.
Traveling by boat (or in our case, by private yacht!) on the heavenly waters is the best way to see Croatia. By avoiding local traffic and anxiety-ridden tourists on crowded roadways, you can instead slip into small ports to visit the many  wonderful towns in this small but mighty country. Join us as we guide you through some facts and, history, as well as showcase some of the best experiences you can have in Croatia, to see what makes this country so trip-worthy!
Fun facts:
Croatia is the setting for King's Landing in Game of Thrones
Dalmatian dog breed originated in Croatia, in the historic region, Dalmatia.

Why Croatia?
Did you know that Croatia was recently voted by readers of Condé Nast as the 9th best country in the world? There's a reason for that! And our perfectly curated trip will showcase it splendidly.
First of all, you'll begin by sailing along its stunning coastline with jaw-dropping views, idyllic islands, beautiful beaches, and historic fishing villages. And as if this coastal basin isn't enough.…
Going inland to cities on our itinerary, the country's rich geographical diversity will unfold. Lowlands give rise to majestic vistas in the Alps. Throughout,you'll see lush vines and orchards, river valleys, national parks with waterfalls andhidden lakes, vaulting limestone peaks. No wonder Croatia is considered one of the most beautiful countries in the world, with its spectacular natural landscape.
Throughout Croatia, impressive medieval walled cities bring a juxtaposition of old and new. The cities we explore are teeming with history andancient archeological wonders, yet modern with bustling cafes, food festivals, wine tastings, and cultural arts, catering to its population of one of the most educated peoples in the Balkans.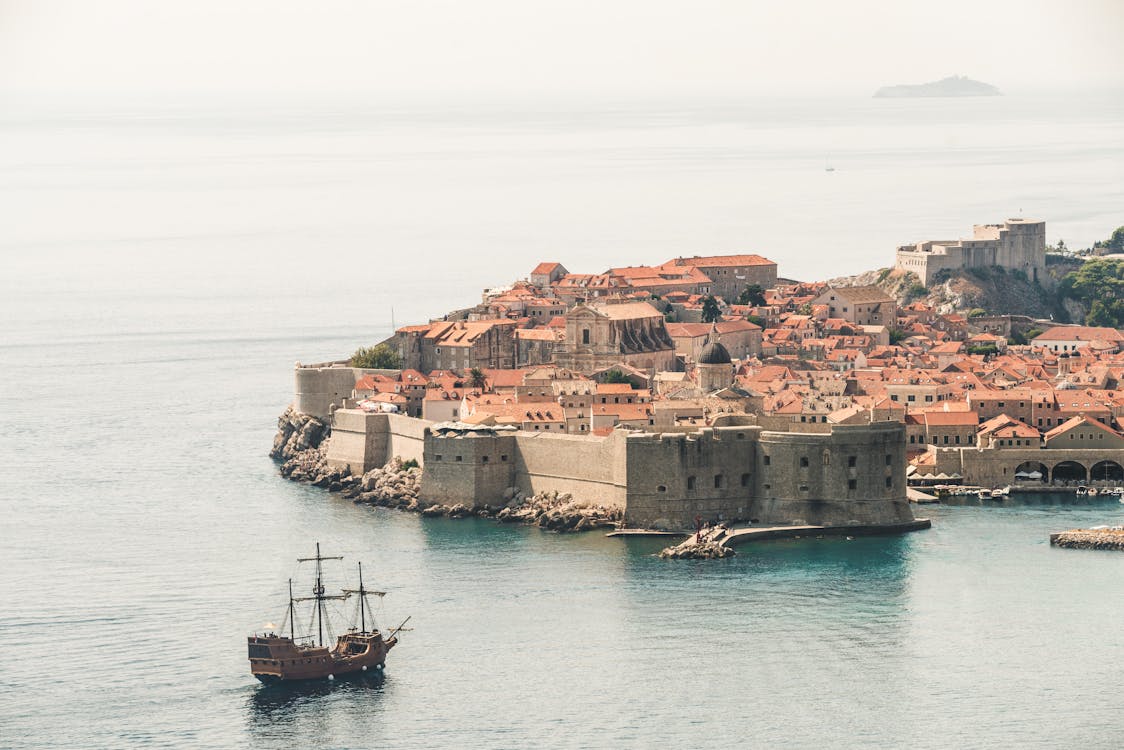 Let's take a deeper dive into the places we'll be visiting on our itinerary.
Split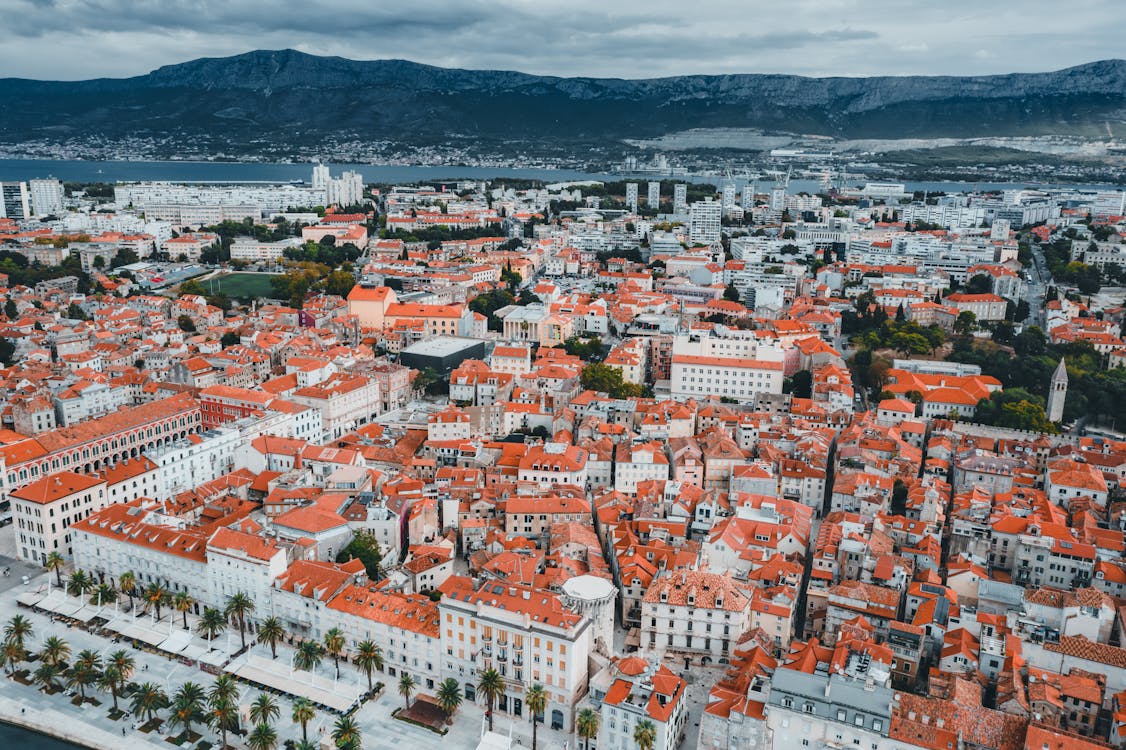 We begin our journey in Split, 2nd largest town in Croatia. A UNESCO World Heritage site, it's best known for its glorious palace of Roman Emperor Diocletian.Our private tour guide will enlighten us as westroll through city streets to see this palace surrounded by medieval walls. Diocletian's Palace was a filming location for Game of Thrones!
Trogir
Another UNESCO World Heritage site, we will learn about the Greek, Roman, and Venetian influences on Trogir's heady history on our walking tour. We will get to see the impressive architecture of the Cathedral of St Lawrence, built in Romanesque-Gothic style. One of its most notable features is the amazing Romanesque door carved in 1240, flanked by stone lions. We'll have ample free time to explore on our own, possibly taking in the delightful waterfront promenade. No large cruise ships dock here, so crowds are smaller. Street performers put on entertaining shows that delight and impress.
Brač
In Bol, a city on the island of Brač, we'll see and experience one of the world's truly great, unknown beaches. Brač's famous Golden Cape, a white pebbled beach, is one of the most fascinating in the world. At 580 yards (about a third of a mile), it stretches out like a white tongue into the sea. It's constantly changing shape and position according to the tides and weather, make this beach especially unique, creating a dynamic art experience.
Hvar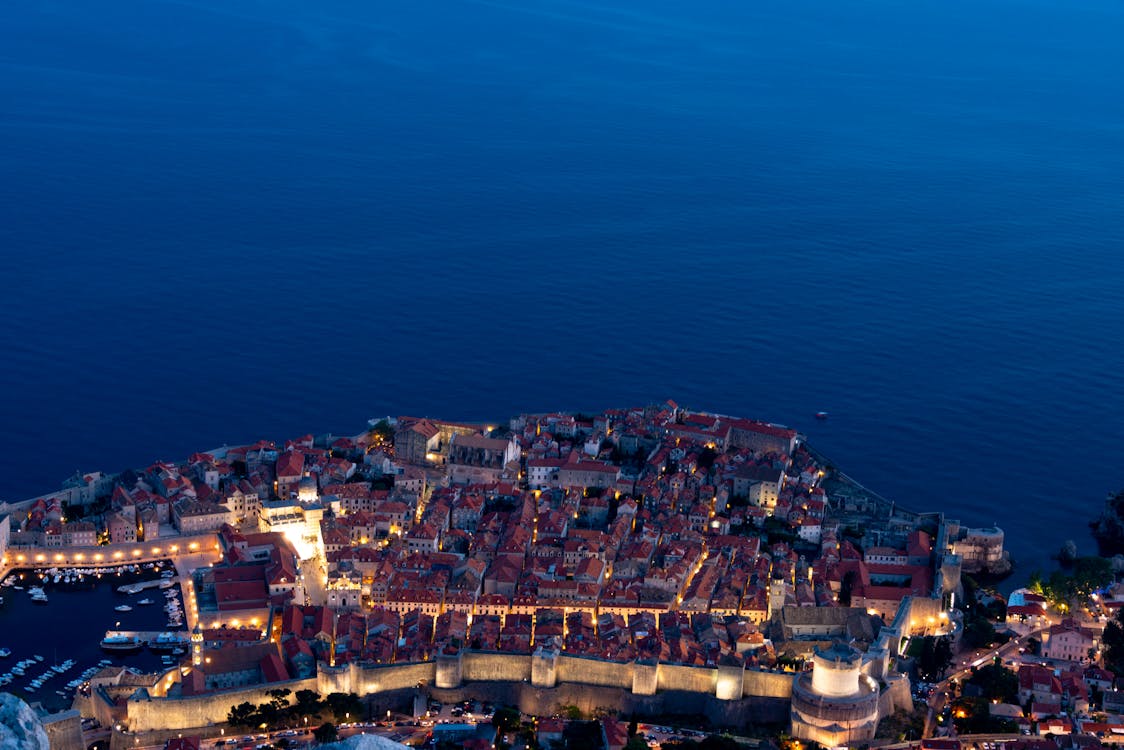 With famed lavender fields, the island of Hvar, and its city by the same name, is considered by many to be Croatia's most beautiful city. In Old Town, rich with history and architecture, we find the Spanish fortress Fortica Spanjola. This offers incredible views across city rooftops to the azure sea and offshore archipelago, and is a must-see. The breathtaking waterfront promenade bustles with world-class restaurants, and a vibrant night life. No wonder it's known as a prime party destination.
Biševo
The tiny islet of Biševo would hardly be noticed except for its remarkable Blue Cave.Only known to fishermen and divers until 1884, when an entrance allowing access by boat was made, even then access is limited by weather conditions. If lucky enough to view it, between 11-1 on a sunny calm day, strong rays from the sunpass through an underwater opening, illuminating the cave with a luminous blue light. Objects underwater shimmer in silver and pink, casting an eerie and otherworldly effect. It is truly a magical experience.
Vis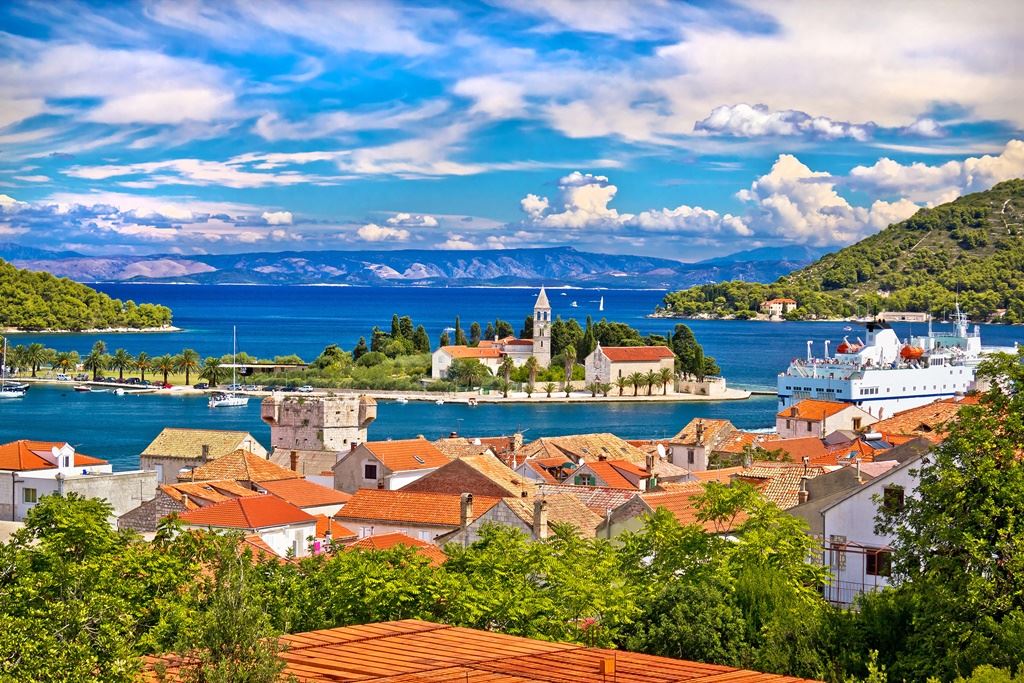 A quick 20-minute boat ride away is the neighboring island of Vis. Quieter than Hvar, and off the beaten path, it's wild and untouched, a perfect place to slow down. It only recently opened to tourism, as it served as a Yugoslav military base until 1989. Because it was closed to visitors during this time, it has remained unchanged for decades. No big resorts on this picture-perfect island, instead with crystal clear beaches, small scenic fishing villages, towering cliffs, and wonderful vineyards, it's another hidden gem.
Korčula
The island of Korčula is known as the "green island" and one of the most forested islands in Croatia. It's city of the same name, is one of the best-preserved medieval cities in the Mediterranean, and believed to be the birthplace of Marco Polo. The house where he was thought to be born is now a museum. We'll learn all about this on our guided walking tour of the city. There will also be time to explore on our own.
Mljet
Mljet Island is one of the most underrated places in Croatia, as it's another untamed oasis. Covered by dense forests, with vineyards and olive trees, it's well known for its red and white wines, olives, and goat cheese. With only 1 major road, the verdant Mljet National Park makes up half the island, and is a favorite of nature and adventure buffs. Features include 2 gorgeous saltwater lakes 'Velikojezero''- Big Lake and ''Malo jezero''- Small Lake. Within the large lake is St Mary's Islet, home to Roman ruins and a Benedictine Monastery from the 12th century. Another beautiful place on Mljet is Odysseus Cave,which was supposedly the basis for Homer's "The Odyssey".
Šipan and Slano
The Island of Šipan, with its peaceful fishermen's village, stunning natural beaty, and rich history will capture your heart. If you're ready for an educational experience, the Archeological Museum in the city of Šipanska Luka showcases the island's history and culture. Historic sites and monuments, and as many as 43 churches, many in ruins, will please history buffs. This low-key island is another off-the-beaten-path hidden gem. Alternately, we may visit the protected bay of Slano if there are weather issues or docking capacity limits. Picturesque Slano is not without its draws either, with its rich Mediterranean flora, many beaches, and beautiful architecture.
Dubrovnik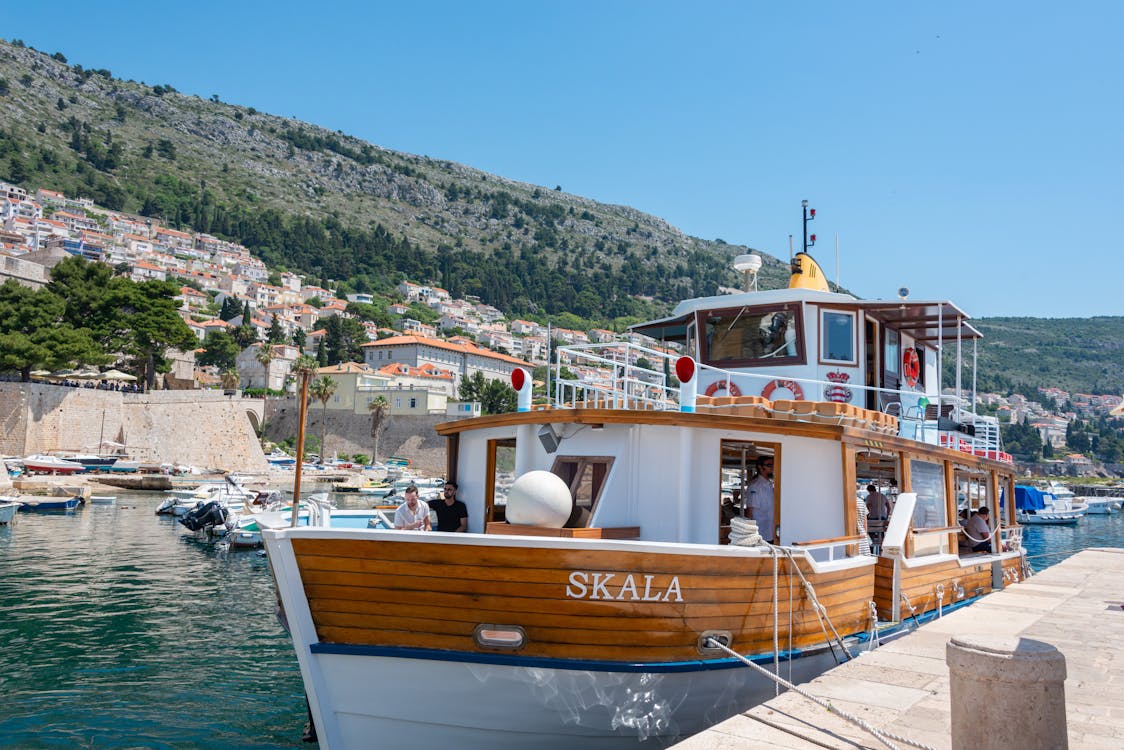 Dubrovnik, also a UNESCO World Heritage site, is known as the "pearl of the Adriatic". The walled Old Town was the set of Kings Landing, from Game of Thrones, where we'll tour with a local guide. During free time, be sure to explore more of the rich local history like the 15th century Gothic-Renaissance Rector's Palace,  take a cable car ride to Srđ Mountain to view stunning vistas, or stroll along the City walls.
How's that for an amazing itinerary! Ten Places with so many different experiences, there will never be a dull moment. Historical sites with astounding architecture, peaceful beaches and islands with hidden caves and grottos, quaint fishing villages with fresh seafood,nature sanctuaries with diverse wildscapes, and bustling cities with world renowned local wines and cuisine (more on that further down!) – you can experience it all!
The Adriatic Queen
One of the best things about this trip is no more tedious packing and unpacking, moving from hotel to hotel to cover all destinations above. Instead, this entire trip we'll be on the Adriatic Queen. This luxuryyacht contains 16 air-conditioned, sound-proofed cabins with convertible twin-to-queen beds and en-suite bathrooms, with anattentive staff of 11: Captain, Assistant Captain, Chef, sous-chef, 2 waiters / bartenders, 3 deck hands, and a maid. With the crew to guest ratio of 1 to fou, you'll be pampered and spoiled. There are ample spaces to socialize with everyone, a jacuzzi on deck, and a bar to purchase drinks.
Wine and Cuisine
Croatia is fast becoming known as a destination for wine lovers, taking in a record haul of 3 platinum and 16 gold medals at a prestigious world wine award last year. Centuries-old vineyards and olive groves cover its verdant valleys and steep slopes. It has perfect conditions for growing wine grapeson its acclaimed Mediterraneanterroir, sharing latitudes with Italy and southern France, and a long history of winemaking. During Communist rule wine production focused on quantity, not quality, but once Croatia emerged as its own country, its ancient wine traditions resumed. Current wine production is focused on white wines, mostly dry, with many new vineyards making biodynamic wines. Croatian wines represent extraordinary value. Some key types of wines to know are Malvazija (indigenous white wine from Istria, a good bet with seafood or lighter pasta dishes), and Teran (traditional Croatian red wine, good choice with meat and heartier pasta dishes). Other wines to know are Plavac Mali (red), Posip (white), Grasevina (easy drinking white). Popular wine drinks with wines and mineral water  aregemist (white) and bevanda (red).
Cuisine in Croatia is very regional, due to many influences with neighboring European countries. So just like the landscape is so varied, there is amazing variety in its diverse gastronomy. Thus you have lots of Mediterranean style with tomatoes, olive oil, seafood, poultry; Italian style with pastas and risotto; Continental (inland) style focused on rich and hearty meats (pork and lamb), stews, piquant and spicy flavorings; northern coastal areas with ham and other dry-cured meats, and cheeses. Some popular unique Croatian dishes to try are black risotto (color from squid ink), brudet or gregada (both fish stews), fritule (sweet fried dough balls),peka (meat or seafood stew with vegetables and potatoes, slow cooked in embers with terracotta lid),  pasticada (marinated beef stew with prunes or figs and gnocchi), buzara (shellfish in broth), fuzi (pasta in hearty game stew or with truffle cream sauce), minestra (vegetable soup), and soparnik (flat pizza-like pie with swiss chard).